To claim their stake in the digital landscape, organizations are investing heavily across diverse resources, which often brings increased complexity and a lack of financial visibility.
The task of managing these costs has become crucial yet challenging. IT Financial Management (ITFM) tools provide a solution to this problem by offering clear insights and control over IT expenses.
This article seeks to shed light on the pressing need for ITFM, outlines the key features of an effective ITFM tool, and presents a comparative analysis of the best ITFM tools in the market today
---
What Does ITFM Mean?
IT Financial Management (ITFM) is an increasingly important field that both IT and finance leaders are starting to embrace. ITFM's main goal is to offer a clear, thorough view of IT costs, which is becoming a crucial part of many business' financial strategies.
But ITFM isn't just about keeping costs under control; it's also about providing a full depiction of all IT spending within an organization. In short, ITFM shines a light on the intricate world of IT expenditures, allowing companies to understand, manage, and optimize their IT investments more effectively.
Why is ITFM Important?
Referencing a recent Harvard Business Review study, a staggering 74% of executives predict a substantial increase in IT complexity in the upcoming 18 months. Half of these executives confess that this growing complexity is generating a sense of chaos within their organizations.
This growing complexity is accompanied by a rise in IT costs, with global IT spending projected to grow at a compound annual rate of 7.4% through 2026.
In the face of these challenges – the surge in IT complexity and costs – brought by digital transformation, ITFM is increasingly critical. It offers organizations the necessary tools to navigate these complexities and keep rising costs under control.
---
What are ITFM Tools? How do they work?
Just as financial accounting is fundamental to understanding and managing a business's resources, ITFM tools are essential for scrutinizing and controlling IT expenditure. Essentially, they serve as the accounting wing of the IT department, offering precise cost analysis, decision-making assistance, and a boost in overall efficiency.
Here's a closer look at how these tools work:
Cost Analysis: ITFM tools enable a clear and comprehensive analysis of actual costs, providing the necessary insights for crafting a transparent cost allocation strategy. This strategy is based not on assumptions, but on real costs involved in the business.
Service Provider Approach: With these tools, IT departments can operate like internal service providers. The pricing for services is rational and defendable, enabling the department to show actual expenditure for each department rather than charging based on size or computer numbers.
Data Consolidation: These tools pull data from general ledgers associated with software, hardware, and other IT costs. They group these costs into manageable stacks and cost centers, allowing for more efficient management.
Reports: ITFM tools facilitate the creation of comprehensive reports. These reports, which cover all the crucial cost and expenditure details, are then made accessible to all stakeholders, ensuring transparency.
Decision-making: With the granular visibility provided by these tools, organizations are better equipped to make informed allocation decisions. They can speed up investment initiatives and drive efficiency, ensuring the best use of resources.
ITFM tools breathe life into the financial nuances of an organization's IT department by offering a clear and actionable view of their costs.
---
Need for ITFM Tools in Cloud Computing
ITFM tools can be a game-changer in managing cloud costs, thanks to their ability to provide detailed insights into the spending associated with different cloud services.
They can solve several challenges:
Complex Pricing Structures: Cloud pricing models can be intricate and difficult to understand. ITFM tools can help businesses make sense of these structures and manage their cloud costs effectively.
Unplanned Costs: Unexpected costs can quickly escalate in a cloud environment. ITFM tools can provide insights into these costs, helping businesses better manage their cloud budgets.
Decentralized Spending: In many organizations, cloud spending is decentralized across various departments, making it difficult to manage. ITFM tools can centralize this information, giving businesses a clear view of their total cloud expenditure.
---
Best ITFM Tools for Cost Management: Comparison & Analysis
Organizations looking to optimize and manage their IT costs need robust, feature-packed tools that simplify this process. To make your journey easier, we have compiled a detailed comparison and analysis of the best ITFM tools available today.
Take time to understand the features of these tools, consider how they align with your business's current and future needs, and how they can potentially enhance your decision-making process
Economize – Granular Monitoring & Cost Control
Economize emerges as a standout solution in the arena of cloud cost management with its unparalleled focus on convenience and efficiency. Serving as a robust billing console, Economize offers users a detailed overview of monthly expenditures, unit costs, budget strategies, and instance visibility.
What sets Economize apart is its unique approach to cost optimization – it not only identifies inefficiencies but also puts preventive measures in place to ensure sustained optimization. Its granular approach to cost management, coupled with an array of unique features such as automatic anomaly alerts, intelligent recommendations, and an auto-tagging feature, makes Economize a top choice for organizations of all sizes.
Key Highlights:
Provides a comprehensive dashboard with smart insights for improved decision making.
Enables in-depth viewing of expenditures, resource utilization, and unit costs.
Offers seamless integration with BigQuery, Datadog, and Slack for efficient multi-project management.
---
Apptio One – User Friendly ITFM Tool
With Apptio One, streamlining financial and operational data into repeatable reports is effortless. This ITFM tool empowers IT professionals to categorize costs and plan for the future using metrics and KPIs. The user-friendly dashboard of ApptioOne unifies financial and operational data, helping organizations to accelerate budgeting and forecasting processes. This tool is most celebrated for its ability to uncover opportunities to optimize cost structures, reduce risk, and drive growth.
Key Highlights:
Enables rapid decision-making by uncovering insights in minutes, not weeks.
Facilitates faster planning and resource reallocation to high ROI investments.
Provides a structured view of IT expenses, thereby allowing for faster ad hoc analysis and budgeting cycles.
---
CostLens – Hybrid and Multi-Cloud Reporting
CostLens by Amalytics stands out in the field of technology cost management for hybrid, multi-cloud environments. It offers a fully-hosted cost allocation tool with a state-of-the-art cost modeling engine and a ready cost transparency reporting suite. The software is designed to support growth, improve organizational agility, and reduce costs. It's the ability to handle complex cost structures across multiple jurisdictions at speed, sets it apart from traditional tools.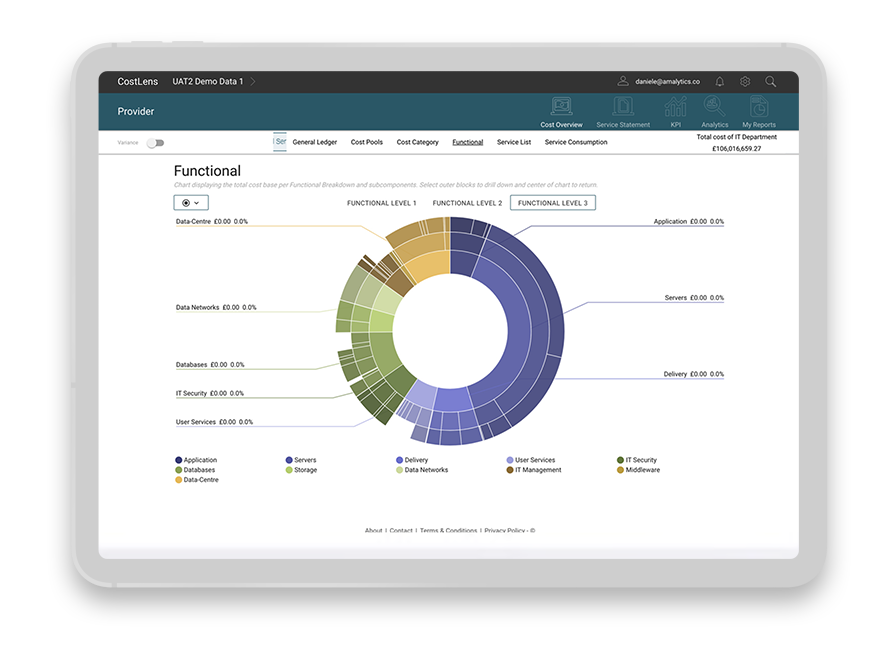 Key Highlights:
Provides a state-of-the-art cost modeling engine for comprehensive cost management.
Offers a ready cost transparency reporting suite for quick and easy access to cost data.
Boasts a secure, robust, integrated solution designed for modern enterprises.
---
KP-One:  IT Budget Management
KP-One provides a unique approach to IT financial management with its cost driver-centric model. It not only helps in planning expenses and analyzing budgets but also makes your IT budgets predictable by computing them from your real fixed and variable costs. KP-One excels in its ability to build alternative scenarios and evaluate digital transformation project ROI and Payback, making it a perfect fit for IT governance.
Key Highlights:
Provides a unique cost driver-centric model for precise total cost of ownership (TCO) management.
Enables the creation of service catalogs and automates the chargeback process to service consumers.
Facilitates the building of alternative scenarios for monitoring digital investment portfolio and project benefit tracking.
---
MagicOrange – Cost Visibility and Allocation
Recognized by Gartner for its advanced IT Financial Management platform, MagicOrange empowers organizations to align their costs with business objectives and increase visibility of complex cost combinations. Its proprietary technology assists CFOs in equitable and open cost allocation, not only for cost-recovery but also as a method of managing usage and demand.
Key Highlights:
Provides an advanced IT Financial Management platform for accurate cost understanding and alignment.
Enables equitable and open cost allocation for managing usage and demand.
Partners with world-leading technology platforms to deliver a superior user experience and value to customers.
---
ComSci – Interactive ITFM Dashboard
ComSci, developed by Upland Software, offers a comprehensive range of tools to enhance ITFM approaches. The software provides colourful dashboards with detailed information on IT product usage, cloud usage, vendor analysis, forecasting, and more, enabling IT professionals to make informed decisions about cost cuts and improvements. The unique offering of insights tailored to the organization sets ComSci apart in the world of ITFM tools.
Key Highlights:
Offers a wide range of tools for comprehensive ITFM analysis.
Provides a colourful, easy-to-understand dashboard for better visibility of IT product and cloud usage.
Enables tailored insights for effective decision-making and forecasting.
---
How to Choose the Ideal ITFM Tool for Your Business
No one-size-fits-all, and the best ITFM tool for you will depend on your specific operational requirements and strategic goals. Choosing the right one is a decision that requires careful consideration of your unique needs, workloads, cost structures, services, and teams.
Here are some crucial factors to consider when making your selection:
Business Objectives: Define what you aim to achieve with your ITFM tool – be it enhancing cost visibility, increasing savings, or streamlining forecasting. Your chosen tool should align with these objectives and provide the necessary functionalities.
IT Compatibility: Your ITFM tool should sync with your existing IT infrastructure, providing insights to manage, predict, and optimize IT spend, thereby fostering a proactive financial management approach.
Cloud Strategy Alignment: If your operations include cloud services, your ITFM tool should be adept at managing, analyzing, and optimizing these costs, offering clarity into cloud expenditures and usage.
Scalability and Adaptability: As your business expands, your ITFM tool should be able to scale and adapt accordingly. Its ability to integrate with other operational tools is critical for comprehensive business performance tracking.
User Experience and Training: Opt for an ITFM tool that is intuitive and easy to use, as it can significantly boost its effectiveness. Additionally, verify that the provider offers adequate training and support to ensure seamless usage.
Vendor Credibility and Support: Consider the vendor's reputation and their track record for customer service and continuous updates. Reliable support is essential to capitalize on your ITFM tool fully.
---
Conclusion
Controlling IT and cloud-related costs is a continuous process, not a one-off event. Each business is unique, and thus, the right tool will differ, but the end goal remains the same—efficient IT cost management aligned with business objectives.
The journey begins with empowering oneself with knowledge and choosing the right tools to manage, optimize, and forecast IT expenses effectively.
If you're keen on learning more about IT cost management, we invite you to explore these articles:
Struggling with monthly cloud expenditure?
Consider scheduling a demo with Economize. It's free, swift, and proven to be effective.
We trust this article has been enlightening in your understanding of IT Financial Management and the various ITFM tools available. Should you have further queries, please feel free to share them in the comments section below.